May 20, 2006
At 7:15 A.M. I was putting on the last few items of riding gear before heading to Marin for my usual Saturday morning ride.
I had selected my 1998 Honda Superhawk as my "bike of the day", mostly because I had been riding the three other bikes in my collection and wanted to pay it a little attention.
My initial destination that day was the Bovine Bakery in the western Marin town of Point Reyes Station. It's about 42 miles from my front door to the bakery.
The morning was cool and misty and as I crossed the Golden Gate Bridge I kept my speed just under the 45 mph limit, remembering that the CHP setup laser speed trap on many Saturday mornings. No sense getting nicked if you don't have to.
I normally have a short but serious discussion with myself about safety issues as I start off on a ride. I'll say something like "safety first" to myself as a reminder. I have been riding for many years, and aside from a few minor getoffs, have never had a serious crash, and no injuries to speak of .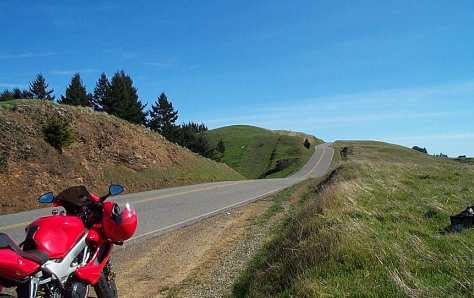 Besides, of all my current rides, it is by far the oone with the most sentimental value, and with it's big old v-twin 100 hp motor, and hooligan attitude, it fit my mood perfectly that day.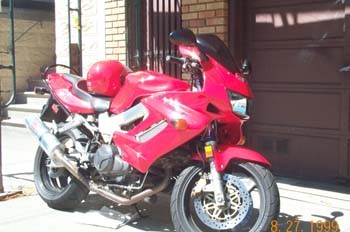 Once I had passed the requisite number of cars on the way to Mount Tam, the Panoramic Highway was all mine, all the way over Mount Tam to Stinson Beach.
The Panoramic used to be deserted most of the time except for the occasional car, but now that Stinson Beach is home to a large number of rich assholes with no roots in California, it can be clogged with giant SUVs and Saab convertibles. But if you get up before the transplants, and get out on the road, you can generally avoid any traffic.
I had beaten the transplants that day. So I was riding at a brisk and rollicking pace over the twistedness of my favorite little road. This is one of the reasons I love getting up in the morning, any morning.